At last a
CRM for dentists
that is easy and affordable
Manage your entire clinic from one place, without extra charges for assistance and training. Control your patients' history, treatment plans and much more…
Unlimited training
Free for all your staff
Manage your dental schedule
Automatic reminders
No personnel limit
For your entire team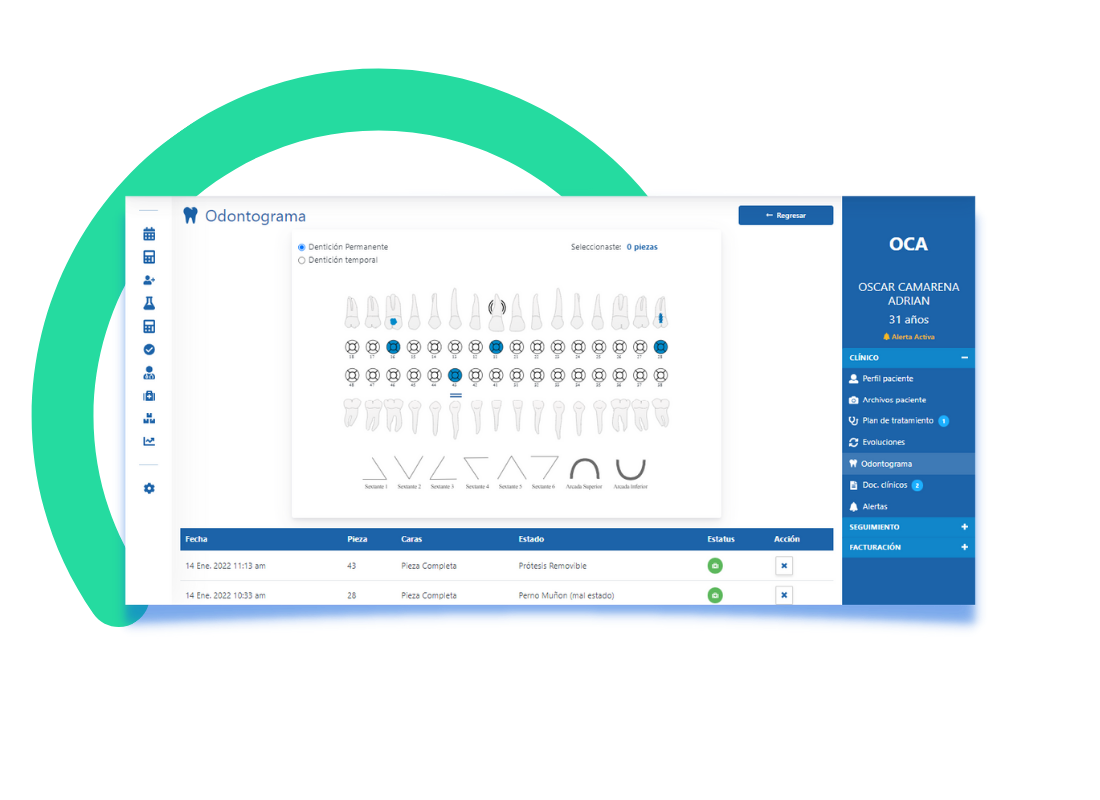 The best software
for your dental office
Control communication with your clients.
Automate all the processes of your clinic.
Create treatment plans and budgets.
Manage your own CRM.
Managing your practice
has never been easier
Complete patient monitoring
Review of clinical records
Intuitive dentist's chart
Administrative
Management
If your head hurts from thinking about:
✖ Managing clinical documents by hand.
✖ Keeping track of outstanding receivables.
✖ Reminding your patients of due dates and promotions.
WE'RE HERE TO HELP
✔ Simple one-click collections.
✔ Digital access on a single screen to all patient information.
✔ Permissions by users for office management.


Digital agenda connected to Google Calendar



4 dentists users



1 practice



Unlimited free training



3 GB of storage



Full odontogram



Digital treatment plans



Digital clinical documents



Collection control



And more...
Enjoy everything included in the professional plan and also…


Inventory module



Landing page with appointment booking connected to SIGA DENTAL



2 extra dentists users



5 GB extra storage



And more...
Frequently
Asked Questions
Do I get charged for training and support?
Of course NO, the attention with SIGA Dental will always be free and unlimited. We train you and all your staff as many times as you need, just reach us and schedule the time that best fits your schedule.
I need more access for my assistants
You can create as many employee type users as you need from within the system.
I have more than one practice, is SIGA Dental still good for me?
Indeed, our system is also suitable for you. Book a demo to see the system and ask about multi-office plans.
Are my patient data secure?
All our information is backed up daily to prevent data loss. Our databases are hosted on AWS and we have internal security protocols to increase customer protection.
I already have a system, do you migrate the information?
We evaluate on a case by case basis if we can migrate the information to SIGA Dental and we will try to offer you the best option available. An important fact is that we do not charge for the migration.
What happens if I do not renew the following year?
We have no forced renewal contracts, no phantom clauses. And as for your information, you can download your entire database in Excel before the end of the year of service.
Book a
free demonstration
Talk to our team. We show you how SIGA-DENTAL can be adapted to your practice.